Discover more from Thank God It's Computational
A hand-picked round-up of the best content at the intersection of Architecture, Design, and Technology. Trusted by 8,000+ subscribers.
Over 5,000 subscribers
7 Ways AEC Industry is Pushing BIM & Beyond
Issue #21
I'm Vignesh Kaushik. I curate and write articles on Thank God It's Computational to help architects, designers, and urban planners leverage cutting-edge technologies on AEC projects.
TGIC is a community-driven platform providing concise technology education to students and professionals in the AEC industry to learn at their own pace. If you're not a member, consider joining the community and supporting our work.
---
If we look at a building's life cycle, from planning to design, engineering, construction and then occupancy and management, the major participants vary a lot: from the owner, to architect, to engineer, to contractor, then to the user and the management team. Out of all these folks, only a fraction of them are in direct touch with the BIM software. Yet, other stakeholders have to communicate information that are so fundamentally different that a modeling tool can't contain them all.
In this issue, let's take a look at some amazing tools for the AEC industry that are pushing boundaries to enable the missing links in the BIM Chain and beyond.
Scan to BIM Technologies
Pointfuse • Point Cloud to 3D Vector Model in Minutes
Arithmetica's PointFuse can take point cloud data or photogrammetry from drones and generate high fidelity 3D vector models. The software can identify natural break lines across the object's geometry, making it possible to select, investigate and extract features like doors, walls, windows and other building elements. It recognizes similar characteristics across a surface and then, rather than duplicating the same data, groups data by the shared attribute. This results in a reduction in model size by a factor of ten.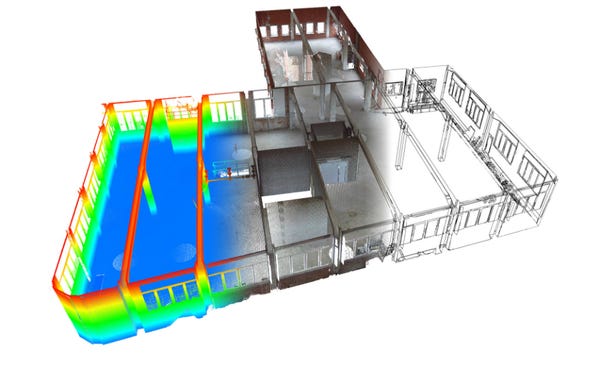 Making laser scanned data more usable
Verity Construction Verification Software • An Important Missing Link in the BIM Chain
Poorly constructed and out-of-tolerance work is a massive problem in the construction industry, typically accounting for 5% of a project's cost. ClearEdge3D had recently announced the release of Verity 1.0, a software which verifies accuracy of as-built construction against a design model. The software analyzes laser scan point cloud data of the as-built construction against the design/fabrication models, identifying variances, missing elements or other potentially costly construction errors. The variance data and corrected model can be exported to Navisworks for as-built clash detection and for flagging problems requiring remediation.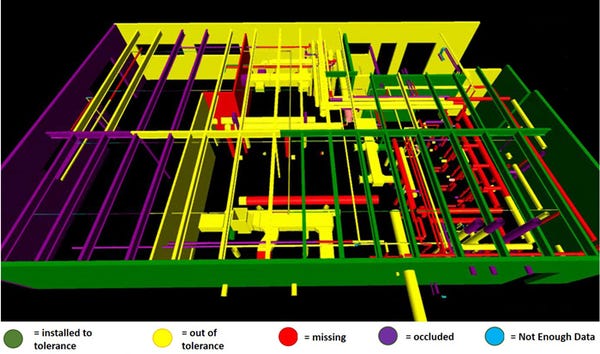 Verity's 'stop light' variance classification: A quick overview of construction quality
3D Modelling in Mixed Reality
HoloSketch • A Spatial Layout & Sketching App for HoloLens
HoloSketch opens up a way for designers to easily explore 3D design on Hololens. For designers who are not familiar with tools such as Unity and Visual Studio, it is not easy to put something together in HoloLens. Typically you have to go through an arduous process to see your 2D/3D artwork in the device. This was a big barrier for designers iterating on ideas and scenarios quickly. With HoloSketch, the process is much simplified without involving development tools and device portal pairing. Using OneDrive, users can easily add 2D/3D assets into HoloLens.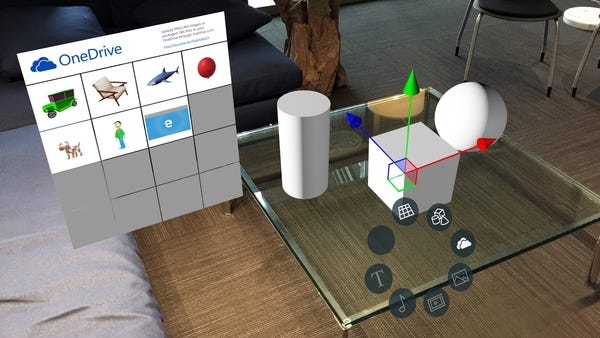 Using primitive shapes for quick massing studies and scale-prototyping
Design Production Automation
GenMEP • The Beginning of the End of Clash Detection
BuildingSP is disrupting the BIM market with their product GenMEP. GenMEP is an add-on to Autodesk Revit that uses computer algorithms to automatically route MEP systems through Revit models and even point clouds captured from laser scanners without clashes. Users simply tag the start and end points of the MEP systems and GenMEP will automatically route those systems, with the goal of minimizing complexity and maximizing efficiency.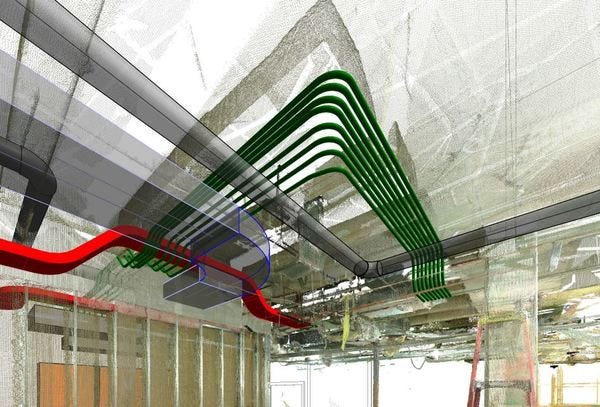 Autorouting Around Point Cloud for Electrical Service Using GenMEP
OpenRoads Designer • Fully Automated Drawing Production
Previously, while drawings were derived from 3D models, they still required a fair amount of manual finishing and management. With OpenRoads Designer Connect Edition, Bentley has developed a fully automated drawing production system. This means that once the drawing sheets are set up, engineers can concentrate on the model, without having to worry about the knock-on effect that last-minute design changes might have on documentation. Importantly, any changes made to the model automatically ripple through to the drawings. Edits can also be made directly in the sheets and OpenRoads Designer updates the source geometry accordingly.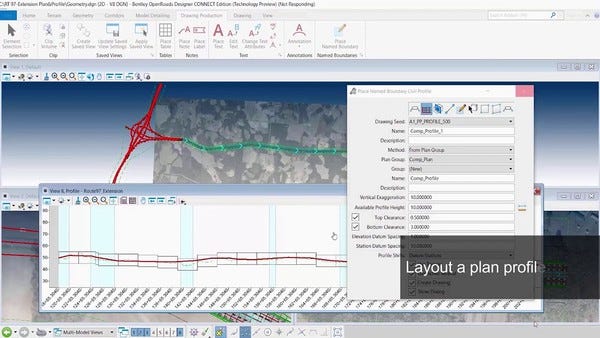 Edit the model in Sheet view and geometry is automatically updated
Decision Support Tools
Envelope • 3D Zoning Tool for Real Estate Development
Envelope uses zoning data to parametrically mass parcels, covering setbacks, floor area metrics, air-rights, and assemblages, all while specifying use type, though it does not show building skin and other architectural details. This 3D urban mapping platform integrates proprietary geospatial datasets, sophisticated algorithms, and iterative scenario analysis to help real estate professionals visualize opportunity; and make faster, smarter, and more discreet investment decisions. So far Envelope is only configured for Manhattan but New York's other boroughs are being worked, as are other cities.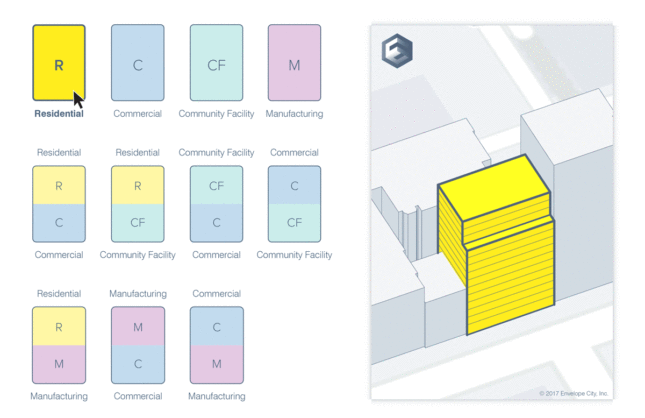 Envelope software displaying building uses available for a particular parcel
Cove.tool : Crunching Big Data for High-Performance Buildings
Cove.tool is a decision making software that helps architects, engineer, owners and contractors to optimize building options for first cost and life cycle cost. Cove.tool quickly allows us to analyze every possible combination of parameters such as U-Value of Glass, R-Value of Wall, HVAC System etc. and pick the option that makes most sense for cost and energy.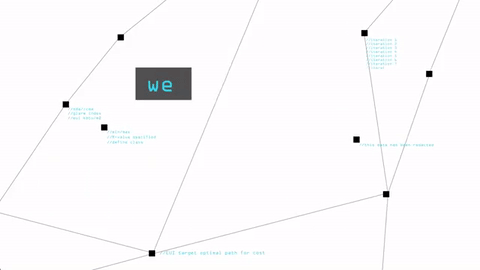 Crunching Big Data for High-Performance Buildings