Discover more from Thank God It's Computational
A hand-picked round-up of the best content at the intersection of Architecture, Design, and Technology. Trusted by 8,000+ subscribers.
Over 5,000 subscribers
How Technology Empowers Data-Driven Urban Planning?
Issue #22
I'm Vignesh Kaushik. I curate and write articles on Thank God It's Computational to help architects, designers, and urban planners leverage cutting-edge technologies on AEC projects.
TGIC is a community-driven platform providing concise technology education to students and professionals in the AEC industry to learn at their own pace. If you're not a member, consider joining the community and supporting our work.
---
With the help of big data and analytics, urban planners can now use simulations to anticipate the impact of urban development programs. Simulation allows planners to anticipate cascading effects across urban systems from water management to energy and waste management to parking. Simulations are an important bridge between theory and experiment: without affecting real-world situations, designers can predict the outcome of interventions across a range of scenario specifications. Simulations have thus become an indispensable tool for urban planners.
This week, let's have a look at some new simulation technologies that have emerged to help urban planners & city administrators make informed decisions using data.
Data-Driven Decision Making
Zonar • Real-time Interactive Zoning Code Analysis and Planning
Zonar is a cloud-based application that assimilates GIS data, property records, and layers of zoning regulations to provide accurate zoning information and 3-D massing diagrams for individual land parcels, assemblages, transit corridors, and districts. Users can efficiently analyze their zoning codes, visualize proposed land use scenarios, master plan districts, and plan better cities. At its core, a proprietary rules-engine integrates all the regulations and variables of a zoning code with property records and parcels to allow users to create potential development scenarios in 3D on a map interface.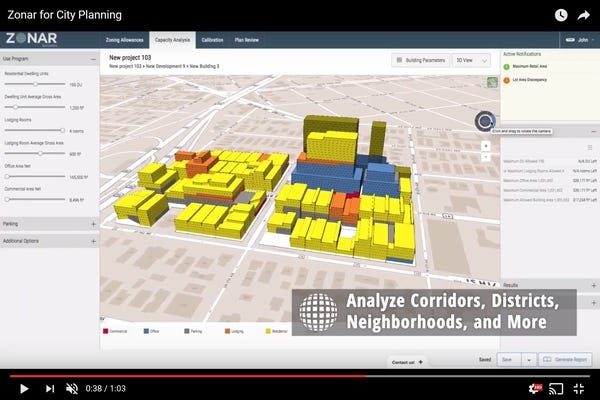 A sneak peek into the future of planning and zoning
Urban Pinboard • Data-Driven Decision Making for Urban Planners
Urban Pinboard is a new tool for collaboration that connects the public, private and community sectors in a single conversation with innovative digital technology to drive smart city transformation. The Urban Pinboard is unique because, unlike other one-way e-platforms in use around the world, it will allow these three sectors to not just access data but also exchange their ideas, thus creating a real and powerful feedback loop.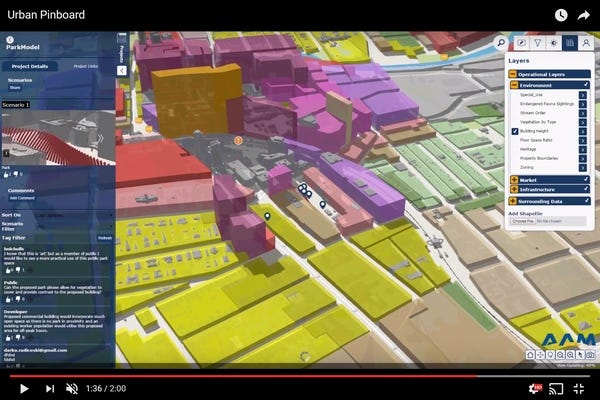 Empowering Urban Planners with ideas from Government, Industry and Community
Data-Driven Simulation & Analysis
Big Glass Microphone • Using Fiber Optic Cables as Sensors
It turns out that some existing infrastructure like fiber optic cables could act as a sensor already - no new tech needed. These cables can detect the unique vibrations created by people driving, biking, and walking. Normally these readings are filtered out as noise since the cables usually are used for transporting internet. When mapped, it's easy to see larger moving waves of vibrations (cars), static pools of vibration (a large fountain on campus), and smaller waves (people and bikes). It could be used to monitor carpool lanes on freeways as well as the flow of traffic. The U.S. alone has an estimated 35 million miles of fiber optic cables crossing the country. That's one big sensor.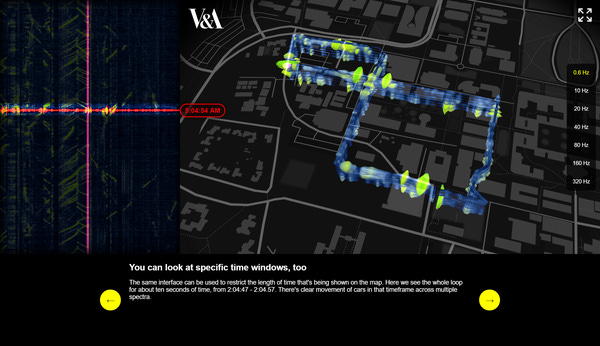 It's a sophisticated system that's already in place; it just needs to be activated
Traffic Exposure Model • Re-engineering New Yorks' Streets
In August 2015, the New York city teamed up with Datakind to build a tool capable of projecting the impact of any given engineering intervention, on any given New York City street. This traffic "exposure" model uses AI to estimate the volume of cars coursing any road, at any time. Spots with high crash rates but low traffic volumes, for instance, could hint at a flaw in the street's engineering and design; conversely, places with high volumes and low crash rates might teach officials something about what makes a safe street. Data-driven models may never be perfect, but in an era of limited funds and rising pedestrian fatalities, city leaders need all the help they can get to figure out why some street designs save lives.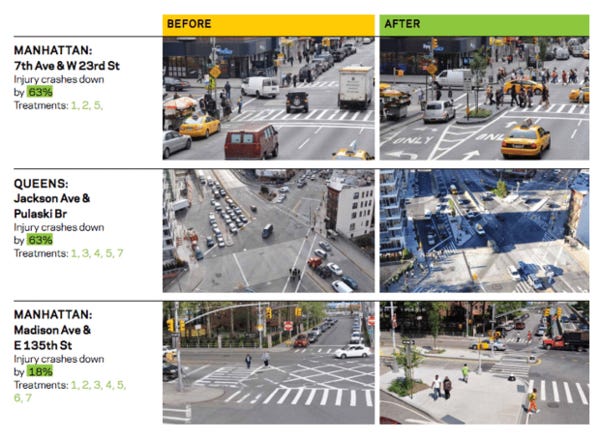 Reengineering streets works
Boston Solar • Energy Demand Analysis For Urban Planners
Utilizing the BERDO and BPDA asset from Boston, along with Google Sunroof, a team has produced advanced visualizations of Boston and a scenario planner for urban designers You might, for example, analyze the efficiency of individual buildings relative to their characteristics and usage, develop a new map to highlight Boston's greenest buildings, or create graphs of usage over time to see how Boston's demand for energy is evolving over time. The source code for this application can be found on github.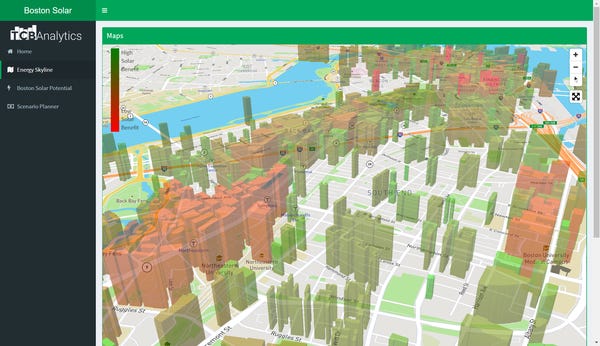 Energy Demand Analysis For Urban Planners
Doppelgänger • Population Synthesizer For Urban Planners
To understand how transportation interventions impact communities, the models we build need to adequately represent every person living in a community today and every person expected to be living there tomorrow. Doppelgänger, an open source library, enables planners to create a set of virtual households that accurately reflects real neighborhoods, cities, regions, or states, along any dimension relevant to the problem at hand. Population synthesizers create make-believe or synthetic households and persons for use in agent-based models, i.e. models or simulations that attempt to represent the behavior of individual actors or "agents".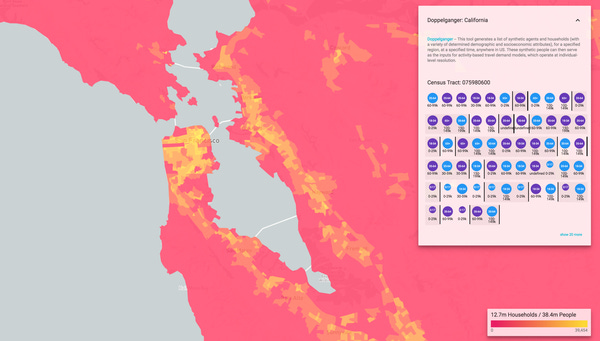 A screenshot of the Doppelgänger tool applied to a census tract in California