Managing Projects with BIMx, Secret Algorithm to Learn Anything & More
Issue #01
I'm Vignesh Kaushik. I curate and write articles on Thank God It's Computational to help architects, designers, and urban planners leverage cutting-edge technologies on AEC projects.
TGIC is a community-driven platform providing concise technology education to students and professionals in the AEC industry to learn at their own pace. If you're not a member, consider joining the community and supporting our work.
---
Toolbox
Controlling your Project with BIM has Never Been this Easy
I think the best part of using ArchiCAD's BIMx is that it gives a chance for non-BIM users to navigate and understand the information in an intuitive way.
How 10 Architects Used The Same Box Of 1,200 White Legos to Design Resilient Buildings
Put down that rendering software. Pick up the Lego.
The 7 Best Data Visualization Tools For Architects and Urban Designers
We have made everything easy for you and prepared a list of 7 free data visualization tools for architects and urban designers that requires zero coding knowledge. And it's completely free to use.
VR/AR/MR
Explore Your SketchUp Models in Mixed Reality using Microsoft HoloLens
SketchUp Viewer on Microsoft HoloLens makes it possible to engage colleagues and clients in experiential design review: a powerful new way to evaluate and collaborate using mixed reality and augmented reality (AR).
VR Is Totally Changing How Architects Dream Up Buildings
"It's interesting to see VR being used to help users visualize not just space but data in three dimensions. Various colored blocks, for instance, a display which parts of their future Shanghai Planetarium will get hit with the most light."
Edit VR Video Without Removing Your Headset With Adobe's CloverVR
CloverVR from Adobe will allow you to increase VR video productivity by editing footage inside a virtual environment.
Sustainability
No, Sweden does not recycle 99 percent of its waste
It incinerates about half of it, which is a very different thing.
Design for Repair: Empowering Consumers to Fix the Future
By understanding how everyday devices work, individuals can – with the help of a growing online community – enjoy extending the life of products and drive socially responsible design.
Smart Cities
Google is teaming up with India's Government to create a Clean Bathroom Locator
Google and MoUD aim to tackle that dilemma by giving people the power to search for toilets within Maps by typing relevant words in English or in their native language, like "toilet," "lavatory," "swachhata" and "shulabh." Maps will then show available toilets in the same way it shows hotels, restaurants and other establishments.
Airbus Group - Future of Urban Mobility
In February, Airbus Helicopters and the Civil Aviation Authority of Singapore (CAAS) signed a memorandum of understanding allowing Airbus Helicopters to test a drone parcel delivery service on the campus of the National University of Singapore in mid-2017.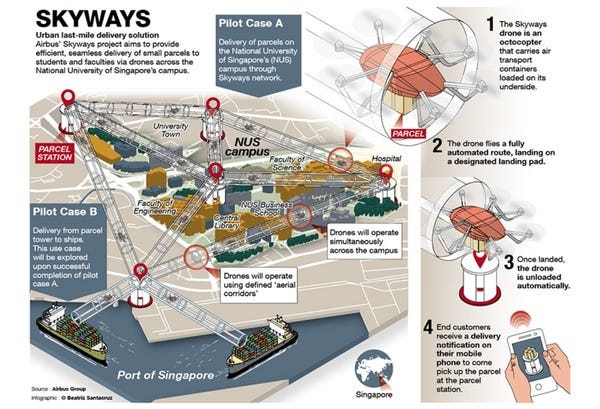 Weekend Learning
The Secret Algorithm Behind Learning Anything
This is probably the simplest 3 step technique that will help you learn anything deeper, and faster. The catch: It's ridiculously humbling!
The Design Tools We Really Need
Designers often learn to do things in one specific way and develop habits that make them more efficient in their process. The problems kick in when many designers are working together but their processes differ.