Top 5 Free Tools For Map Visualization
When it comes to data visualization, everyone loves a map. It's more exciting than a chart and easier to understand than an infographic. It's usually the first thing that urban designers want to know about data visualization: "How can we create a map?" Map visualization allows you to take complex data that most people don't have the time or attention span to comprehend and transform that into easily digestible and enjoyable stories.
Maps are probably the biggest subsection of visualization types. There are many variations on map types, each with its own strengths. These variations can be combined with each other, and many can be tweaked even further to produce new types of maps. But how do we explore data and create such maps quickly?
Fortunately, there are many data visualization tools available to you at little to no cost. It's never been easier to create beautifully compelling visuals from raw data. But, as with all good things, we have a problem of choice.
The 5 Best Tools for Visualizing Maps
That's exactly why we have tried and tested many such tools and have shortlisted the 5 best tools for visualizing maps that urban designers and architects can use to enhance their presentations.
And we made sure that the tools in the list are all web-based, require absolutely no coding knowledge, and most importantly, free to try.
CartoDB creating rich, dynamic maps in seconds. Free for up to 250MB of vector data.
Mapsdata interpreting geo data more effectively than spreadsheets. Free forever.
BatchGeo batch geocoding 1000's of Excel rows. Free with limited features.
Viz.Socialcops creating beautiful maps to tell your story. Free forever.
AM Charts downloading high-quality vector maps of 200+ countries. Free forever.
1. CartoDB
Best for creating rich, dynamic maps in seconds
Many map types including Choropleth, Intensity, Density, Bubble, Torque etc.
Whether you're starting from a spreadsheet, connecting your favorite business software, or drawing from vast sensor networks, CartoDB brings your location data to life. You don't need to be an expert to start mapping your data. Point and click interfaces lets you do everything from design, to analysis. Dynamic filters allows you to perform visual queries with an intuitive user interface, allowing you to explore and analyse huge amounts of geospatial data.
You can adjust the style, annotate, and animate your maps to convey just the right message to your clients. Be prepared to be blown off by this gallery of maps created using CartoDB.
CartoDB Pricing: Free for up to 250MB of vector data; paid features from $149/month
2. Mapsdata
Best for interpreting geo data more effectively than spreadsheets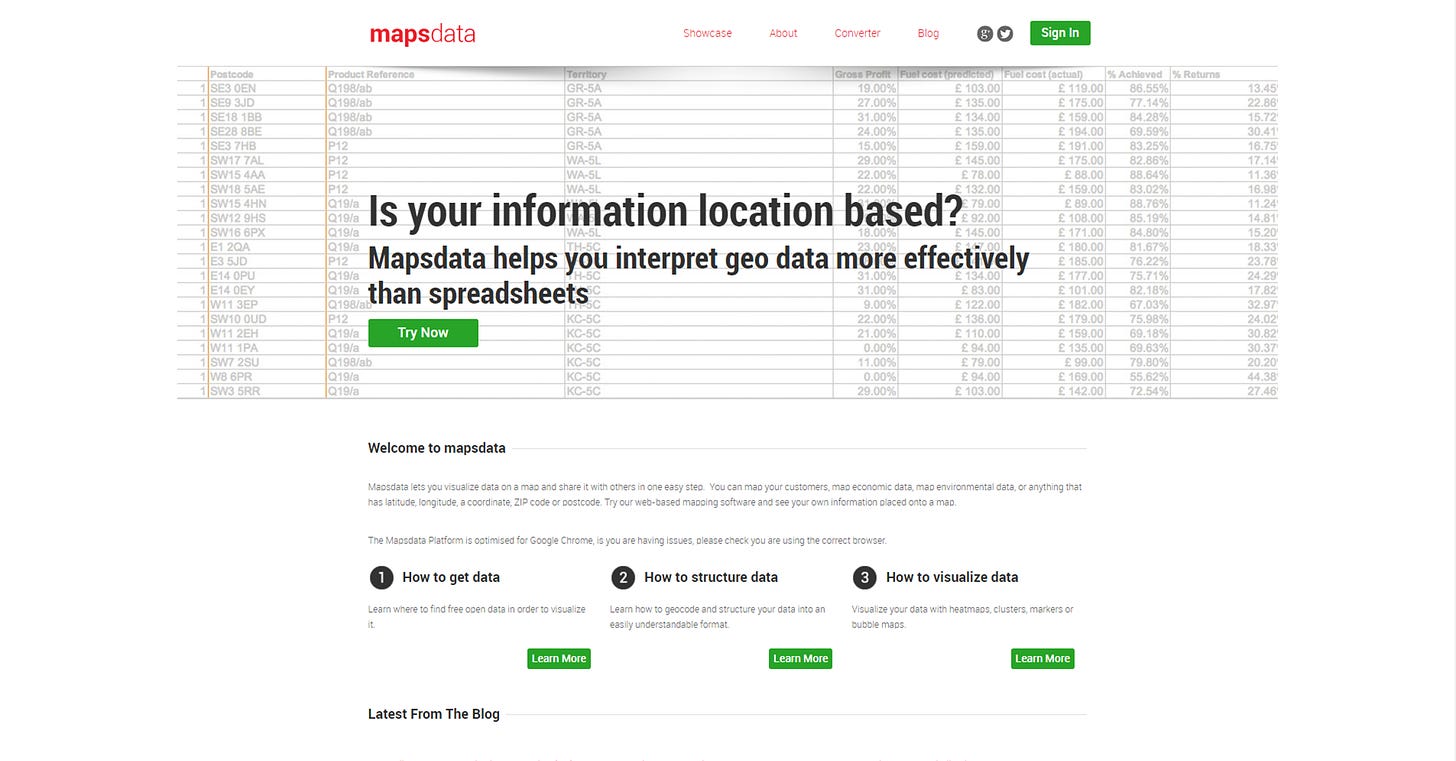 4 map types: heat maps, cluster maps, marker maps and bubble maps.
Mapsdata lets you visualize data on a map and share it with others in one easy step. You can map economic data, environmental data, or anything that has latitude, longitude, a coordinate, ZIP code or postcode. Once your data is structured, load your spreadsheet onto the Mapsdata online tool for visualization. Mapsdata currently offers four types of visualizations and each of them is customizable to help you create the perfect data visualization.
They also have drag-&-drop geocoder and converter that allows you to geocode data effortlessly in a matter of seconds.
Mapsdata Pricing: Free forever
3. BatchGeo
Best for batch geo coding 1000's of Excel rows.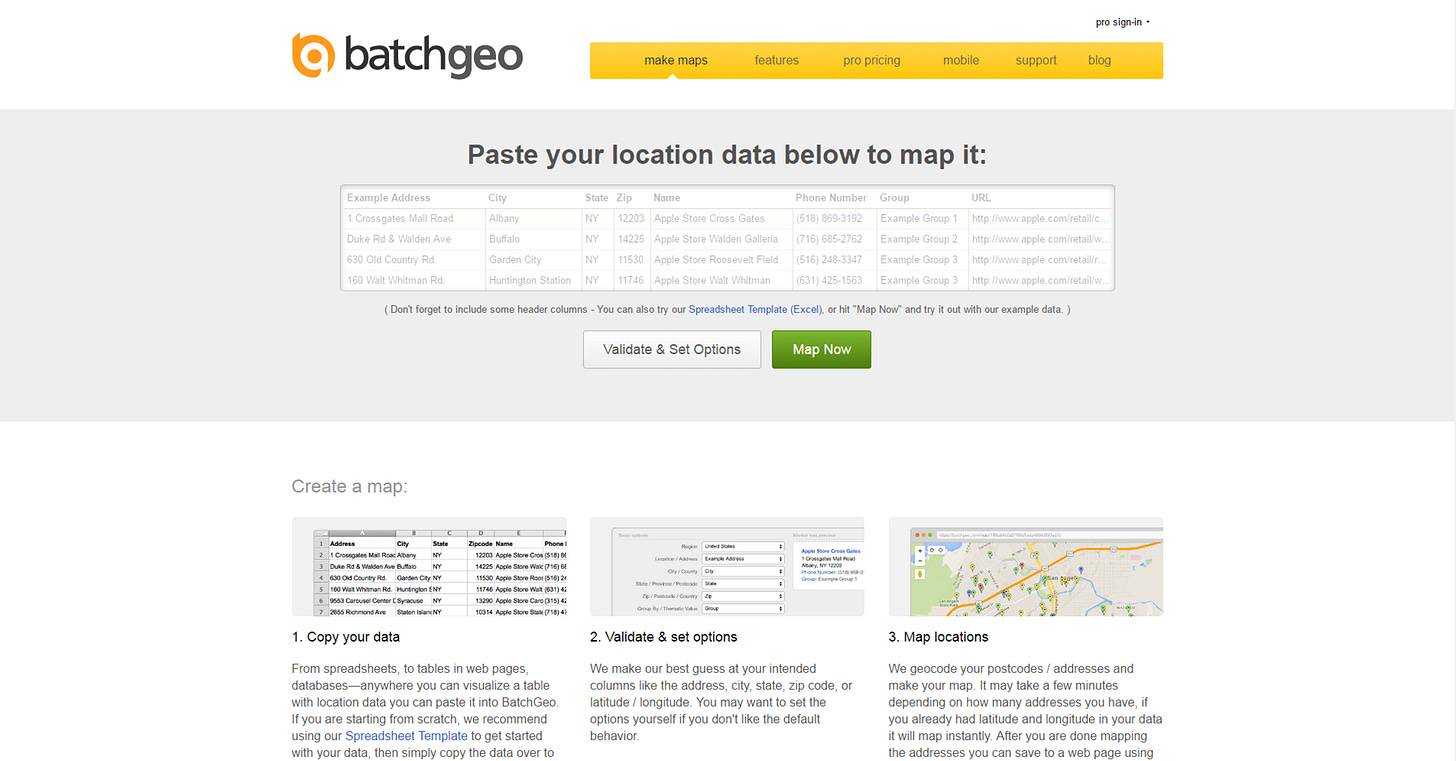 2 map types: heat maps and thematic Google maps.
BatchGeo's maps go beyond the basic capabilities of a Google Map without requiring any programming knowledge. You copy and paste your Excel data (or other spreadsheet) with location and other data. It accepts addresses, intersections, cities, states, and postal codes. You can also mix location with any other data, such as annual passenger volume, or other categorization to get a map that lets you really explore the data.
BatchGeo can place multiple marker designs and even provides clustering to help aggregate the information within your data. Explore some of the most popular ways to use BatchGeo.
BatchGeo Pricing: Free with limited features; pro features from $99/month
4. Viz.SocialCops
Best for creating beautiful maps to tell your story.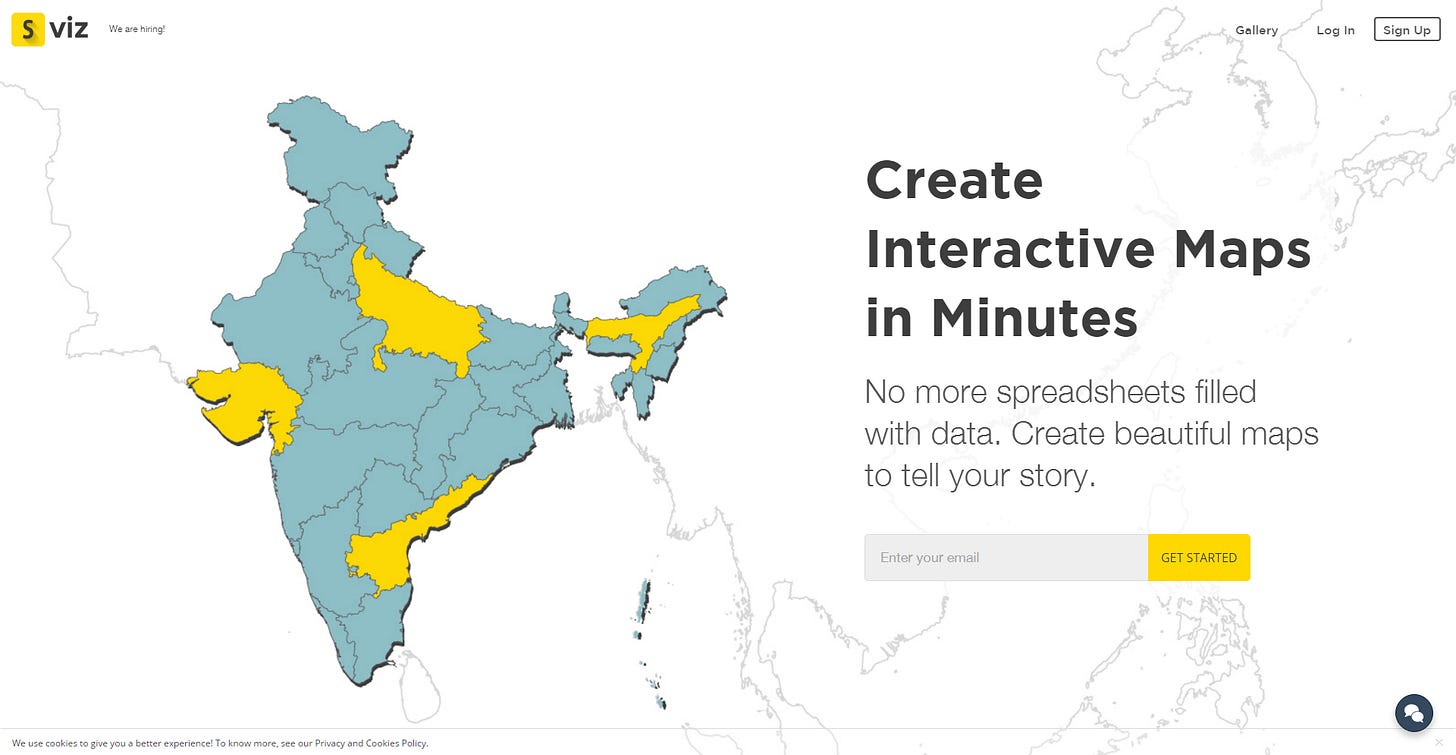 2 map types: Choropleth and Bubble maps.
Social Cops are on a mission to solve the world's most pressing problems using data. As part of this agenda, they have built tools to allow users to collect data using mobile-based surveying apps and visualize the data on their web platform. The Viz tool is a free-to-use, awesome tool that can generate Maps of Continent, countries, districts and even cities. You can use a bubble map to represent multiple data layers on one map within minutes.
This gallery will give you an idea of all the countries for which you can create beautiful maps.
Viz.SocialCops Pricing: Free forever
5. AM Charts
Best for downloading high quality vector maps of 200+ countries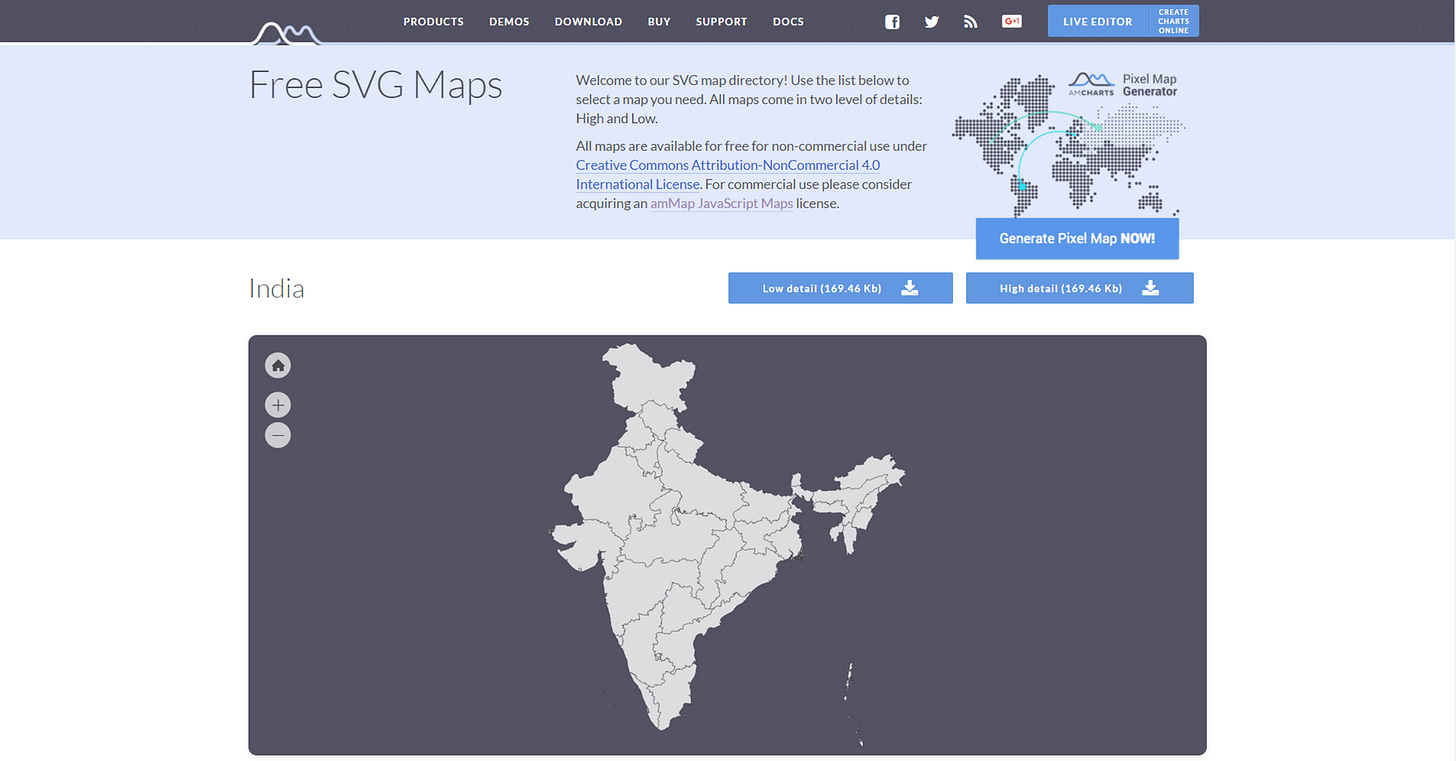 2 map types: Low detail and High detail.
The SVG map directory of AM Charts is an absolute gem with over 200 countries in high detail (including states and districts) for anyone to download and edit in their favourite vector tool. They also have another tool to generate Pixel Maps of any country or the world. You also have complete control over the shape and size of pixels, color and the overall look and feel of the map.
If you are in the mood for some fun, you can use this tool to create an interactive map of all the countries you have visited and share it with your friends and make them jealous!
AM Charts Pricing: Free forever
Over to you
There are many more web-based and desktop apps that are quite powerful like Maptive Mapsline, Tableau Public etc. These tools didn't make it to the list because they are either desktop-based or paid. However, they may suit your needs too. So, try them out!
Some really good tool may have missed our eye. Do let us know of your favorite data visualization tool that didn't make the list, or a favorite trick that makes one of these tools even better? We'd love to hear about it in the comments below!