Discover more from Thank God It's Computational
A hand-picked round-up of the best content at the intersection of Architecture, Design, and Technology. Trusted by 8,000+ subscribers.
Over 5,000 subscribers
What Happens When BIM Meets the IoT?
Issue #06
I'm Vignesh Kaushik. I curate and write articles on Thank God It's Computational to help architects, designers, and urban planners leverage cutting-edge technologies on AEC projects.
TGIC is a community-driven platform providing concise technology education to students and professionals in the AEC industry to learn at their own pace. If you're not a member, consider joining the community and supporting our work.
---
IoT & BIM
What Happens When BIM Meets the IoT?
A sustainable building is not a fixed ideal, but a moving target that must be reassessed on an ongoing basis with changing patterns of its occupants and its context. Today, most buildings are equipped with sophisticated Building Control Systems (BCS) that collect data from thousands of end-points. Project Dasher acts as a visualization hub where collected data from various end-points is intuitively aggregated and presented in BIM.
Is Connecting BIM and IoT Alone Enough?
Without some type of organizing element from a data analytics and a workflow standpoint, the information coming from various endpoints can be at best silos of information which doesn't provide much actionable value.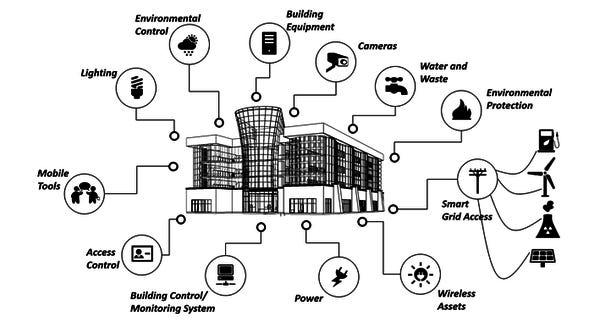 IoT & Smart Cities
Big data, Big Decisions and Even Bigger Questions
"When it comes to smart cities, part of the issues aren't technical," he explains. "If you're deploying a smarter city solution about water, utilities, pedestrian traffic, car traffic… these things fall under the jurisdiction of any number of entities — the city council or private contractors, etc. It's not like selling something to a retailer; there are many different constituencies involved."
Cracking Open Urban Silos using IoT
IoT can be more difficult in older cities where buildings mostly operate autonomously. AT&T is also developing a digital dashboard, called the Smart City Network Operation Center, which will give cities a real-time view of problems like power outages, water leaks, and traffic congestion.
Future of Internet Of Things (IoT)
We know Cloud Computing. But, What is Fog Computing?
Fog computing plays a critical role in IoT. Instead of sending data over a network for it to be processed in the cloud, data can be processed on a gateway or on the sensor/device itself. Since this brings the cloud "closer to the ground", it's referred to as "fog" computing.
Who Will Build The 'God Platform' For The Internet Of Things?
Everyone's racing to build the "god platform" for the Internet of Things: the highest, most generalized layer of intelligence and user interface that ties together connected devices and web services. It's tempting to look for analogy in mobile phone platforms, but its a lot more complicated than that.
Learn & DIY
DIY: How to Monitor Energy Consumption in Your Office?
Pick anything you like. If it has an API, you can track it with Server Density. Here's how we monitor energy consumption and lower our office bills.
DIY: How to Monitor Energy Consumption in Your Home?
The OpenEnergyMonitor system can be used as a simple home energy monitoring system for understanding energy consumption. View and explore real-time power and daily energy consumption in kWh.